Learning how to raise your vibration has never been more important. Beyond the transformative impact on your personal life, you become an active participant in elevating the vibration of our planet. In this pivotal moment, it's a collective imperative to usher in a shift towards a brighter, more harmonious existence.
Jump to:
As our planet undergoes a shift in consciousness, there's a call for as many people as possible to consciously participate in this transition or spiritual awakening.
Learning how to raise your vibration is not only a personal imperative, but a collective responsibility. By elevating your energy, you're contributing to the overall positive shift in the collective consciousness.
In order for our planet to transition into the higher consciousness of unity, interconnectedness, and love we need to align ourselves with higher vibrational frequencies. The invitation to transcend divisive boundaries and embrace the fundamental oneness that underlies all existence is extended to everyone. The more individuals accept this call, the faster we can transition to a harmonious planet rooted in unity consciousness.
It's crucial to note that embracing higher consciousness doesn't mean ignoring difficulties but facing them with resilience, clarity, and a positive perspective. In fact, higher vibrations empower you to transmute challenges into opportunities for personal and collective growth.
In this article I'll give you some simple, but effective ways to raise your vibration so that you can feel better, manifest more positive things and help raise the collective consciousness.
What Is Vibrational Frequency?
Your vibrational frequency is the energy you're sending out into the universe through your thoughts, emotions, and actions. The Law of Vibration, a fundamental principle in metaphysics, posits that everything in the universe, including your thoughts, feelings, and actions, vibrates at a certain frequency. In essence, this law shows us that there's a direct correlation between your internal state and the external circumstances you attract.
Have a look at the emotional guidance scale above. I've written a full article on the Abraham Hick's Emotional Guidance Scale if you want more information on how emotions dictate your vibration. To put it simply, the higher your emotions are on the scale of 1-22, the higher your vibration will be, and the more positive things will begin to appear in your life. The lower you are on the scale, the more negative things will start to manifest. Like attracts like.
Related Post: 51 Law Of Attraction Quotes To Transform Your Reality
How Can You Tell What Your Vibration Is?
How do you feel? Your emotions are your guidance scale pointing you in the direction of your vibration.
Identify the dominant themes in your thoughts. Are they centered around abundance, growth, and possibilities, or are they mired in scarcity, limitation, and fear? Your predominant themes indicate the vibrational frequency you're sending out.
Notice any repetitive thought patterns. Are there certain thoughts that seem to play on a loop in your mind? Repetition can solidify a particular vibrational frequency, influencing the energy you attract.
Consider how you view challenges or setbacks. Do you see them as opportunities for growth, or do they tend to drag you down into anger and despair? Your perspective on life's challenges is a significant determinant of your vibrational frequency.
How To Raise Your Vibration
Remember, it's not about suppressing negative thoughts, but acknowledging them without judgement and actively choosing more constructive alternatives.
As you refine your thought patterns, you're essentially fine-tuning the frequency of the the energy you emit, setting the stage for a higher vibrational experience.
Appreciate Everything You Have
Whenever you feel your vibration begin to dip, actively begin making a mental list of all the things you have to be grateful for. These don't have to be big things, though they can be.
For instance, do you have electricity? Did you have enough food to eat today? Do you have clean water to drink? Do you have a roof over your head? Do you have clean sheets? f you do, you're blessed with so much more than many other people have. Be grateful. You're too blessed to be stressed!
Actively listing the things you're grateful for is one of the quickest ways to raise your vibration. Try it now. Don't you immediately feel a sense of relief, and just a bit lighter? Gratitude is a powerful force.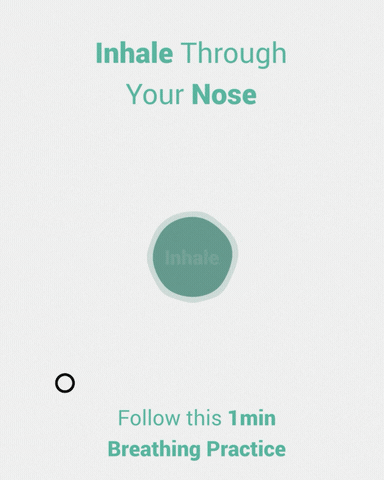 Practice Box Breathng
I know that everyone says to "take a deep breath", but honestly, breath work is one of the fastest ways to raise your vibration. This is a simple, but highly effective breathing technique called box breathing or square breathing:
Find a Quiet Space: Choose a quiet space where you can momentarily detach from the source of your anger. This could be a private room, a quiet corner, or even a secluded outdoor spot.
Assume a Comfortable Posture: Sit or stand in a comfortable position. If possible, close your eyes to enhance your focus on the breath.
Box Breathing Steps:

Inhale (Count to 4): Inhale slowly and deeply through your nose, counting to four as you fill your lungs with air. Feel your chest and abdomen expand.
Hold (Count to 4): Once your lungs are filled, hold your breath for a count of four. This brief pause allows the oxygen to circulate and saturate your bloodstream.
Exhale (Count to 4): Exhale slowly and completely through your mouth, counting to four. Feel the release of tension as you expel the breath.
Pause (Count to 4): Before inhaling again, maintain a momentary pause for a count of four. Embrace the stillness between breaths.

Repeat the Cycle: Continue the box breathing cycle for several rounds. As you breathe in this deliberate and measured manner, envision the box shape, connecting each breath to a side of the imaginary square.
Observe the Calming Effect: Pay attention to how your body responds to this intentional breathing. Sensations of tension and anger may begin to dissipate as your nervous system calms down.
Shift Your Focus To Raise Your Vibration
The direction of your attention has a profound impact on your energy and overall well-being. When you consciously redirect your focus from negative thoughts or challenging situations to positive aspects of your life, you elevate your vibrational frequency.
Let's say you've had a challenging day at work, and everything seems to be going wrong. Your thoughts are consumed by the stress, the mistakes, and the frustration of the day.
Pause for a moment and consciously shift your focus. Instead of dwelling on what went wrong, intentionally direct your attention to what went well or what you can be grateful for in that day. Perhaps you had a positive interaction with a colleague, completed a task successfully, or simply enjoyed a moment of quiet during lunch. By redirecting your focus to these positive aspects, you change the tone of your thoughts and raise your vibrational frequency.
This simple act of shifting focus can be applied in all kinds of situations. It's about training you mind to actively seek the positive, even in challenging circumstances, thereby elevating your overall energy and contributing to a more positive and harmonious inner state. It's a simple yet powerful way to actively participate in the elevation of your own vibration and that of the world around you.
Learn Where To Direct Your Energy
Avoid getting into conversations, debates or discussions with people who are commited to misunderstanding you. We've all had family members, friends or even partners who seem to revel in negativity and drama, and there's just no point in trying to convince them otherwise. Protect your own energy from the low vibrational negativity and allow them to go along whatever path they choose in peace.
Lead by example and direct your energy to less futile, frustrating pursuits. This goes along with, shift your focus. While you're intentions might be genuine, not every disagreement warrants a debate. Evaluate whether the conversation is constructive and has the potential for mutual understanding. If not, disengage and preserve your energy for more fruitful interactions that allow you to keep your vibration high.
Remember, maintaining a higher vibrational frequency often involves choosing harmony over discord and prioritizing your mental and emotional well-being.
Join Our Facebook Community
How To Raise Your Vibration By Staying In The Present
If you're busy focusing on all the things that went wrong in the past, and stressing about all the things that might go wrong tomorrow - you're missing the only thing you truly have in life - the present moment. Most negative emotions are rooted in dwelling on the past or fearing the future.
Staying present heightens your awareness of the beauty and richness of life in the now. Whether it's the warmth of sunlight, the sound of birds, or the texture of an object, your heightened awareness helps you appreciate everything that is. Try this simple mindfulness exercise:
Begin by walking at a comfortable pace, either indoors or outdoors. It could be a stroll in a park or around your home.
Direct your attention to the sensation of each step. Feel the connection between your foot and the ground. Notice the shifting of your weight from one foot to the other.
As you walk, count each step silently. For example, as you lift one foot, think "one," and as you place it back down, think "two." Continue counting in this manner.
Expand your awareness to include your surroundings. Notice the sights, sounds, and smells around you. Feel the air on your skin and the movement of your body.
If your mind starts to wander, gently guide it back to the sensation of each step and the counting. Allow the act of walking to be a mindful, intentional experience.
Take a moment to appreciate the simple act of walking. Feel gratitude for the ability to move and experience the world around you.
Use Positive Affirmations
If you're a regular reader at Daily Dish, you'll probably know that I'm a huge fan of positive affirmations. Just saying them has the power to impact your whole vibrational frequency. For extensive lists of positive affirmations have a look at these posts: 63 Spiritual Affirmations To Raise Your Consciousness, Affirmations For Self Love That Will Build Self Worth or 21 Heart Chakra Affirmations. All of these affirmations will raise your vibration.
Affirmations are not merely words; they're conscious expressions of intention. Through the repetition of positive statements, you're actively participating in the co-creation of your reality. You're also creating an internal environment conducive to higher vibrational frequencies and an overall elevated state of being. Here's a few positive affirmations to raise your vibration fast:
**I am a beacon of positive energy, attracting joy and abundance into my life.
**Every breath I take fills me with positive and loving energy.
**I release all negativity and embrace the abundance of the present moment.
**I am a magnet for positive experiences, and my life is filled with love and happiness.
**I radiate confidence, self-love, and gratitude for the beautiful journey of life.
**My thoughts create my reality, and I choose to focus on positivity and growth.
**I am aligned with the energy of abundance, and I attract prosperity effortlessly.
**I am surrounded by love, and I attract positive, like-minded individuals into my life.
**Every challenge is an opportunity for growth, and I trust in the process of life.
**I am a powerful creator, and I manifest my dreams with ease and joy.
Repeat these affirmations with conviction and sincerity to reinforce positive beliefs and shift your vibrational frequency toward a higher state of consciousness.
Find Your Tribe
Cultivate relationships with people who love and support you. These are the people that are your soul tribe family.
When life gets challenging, these are the folks who will be there to support you and lift you up. Plus, being around people with uplifting energy naturally supports and enhances your own vibrational frequency.
Emotions are contagious! In fact, we absorb the energy of those around us. Positive, high-vibe relationships create an environment where joy, enthusiasm, and support are shared. This emotional contagion can have a big impact on your own state of mind and emotions.
How To Raise Your Vibration With High Vibe Foods
What you consume can have a significant impact on your vibration. I've written an article on this here: High Vibration Foods For Health And Vitality. Here's a list of foods that will raise your vibration:
Fresh Fruits and Vegetables: Packed with vitamins, minerals, and life force, fresh fruits and vegetables are definitely high vibration foods.
Leafy Greens: Spinach, kale, and other leafy greens are nutrient-dense and energetically cleansing.
Raw Nuts and Seeds: Raw and unsalted nuts and seeds are rich in nutrients and healthy fats.
Herbs and Spices: Fresh herbs and spices like basil, cilantro, turmeric, and ginger have high vibrational qualities.
Plant-Based Proteins: Foods like legumes, lentils, and tofu are energetically lighter than some animal-based proteins.
Green Tea: Known for its antioxidants and calming properties, green tea is often associated with higher vibrational frequencies.
Pure Water: Clean, pure water is essential for maintaining high vibrational energy.
Superfoods: Foods like spirulina, chlorella, and wheatgrass are high vibration due to their nutrient density.
Fermented Foods: Probiotic-rich foods like sauerkraut and kimchi support gut health and overall well-being.
Ground Yourself
Grounding yourself is a powerful practice for raising your vibration. Grounding, also known as earthing, involves connecting with the Earth's energy to balance and stabilize your own energy. Here's how grounding can contribute to an elevated vibrational frequency:
1. Energy Balance: Grounding allows you to release excess energy and absorb the Earth's natural energy, which is essential for maintaining a higher vibrational state.
**2. Stress Reduction: Connecting with the Earth reduces your stress levels. As you ground yourself, you release tension and stress, which naturally makes your more relaxed and positive. See this post on the incredible benefits of spending time with trees: The Healing Power Of Tree Hugging
**3. Improved Sleep: Grounding improves your sleep quality. A good night's sleep is crucial for overall well-being and contributes to a higher vibrational frequency.
**4. Enhanced Presence: Grounding practices involve being fully present in the moment. Whether walking barefoot on grass or engaging in grounding meditation, this presence-in-the-now raises your vibrational frequency.
**5. Connection to Nature: Grounding often involves spending time in nature. Connecting with the natural elements—earth, water, air—nurtures a sense of harmony with the environment.
**6. Cleansing and Releasing: Grounding is a way to release stagnant, negative energy. It's like discharging unnecessary energy into the Earth, allowing for a more purified and higher vibrational state.
**7. Physical Well-Being: Grounding practices, such as walking barefoot on natural surfaces, can have physical benefits. The alignment of the body with the Earth's energy contributes to overall well-being and a higher vibrational frequency.
**8. Centering and Balance: Grounding brings a sense of centering and balance. When you feel connected to the Earth, you're more likely to navigate challenges with resilience and a positive perspective.
**9. Energetic Protection: Grounding acts as a form of energetic protection, shielding you from external negative influences, and naturally raising your vibe.
**10. Increased Intuition: Grounding practices put you deeply in touch with your intuition and your own inner wisdom.
My Favorite Grounding Technique
I practice this grounding technique every morning when I wake up, and every night before I go to sleep, and whenever I'm feeling out of balance:
Sit Comfortably: Find a quiet and comfortable place to sit with your spine straight and feet flat on the floor.
Relax Your Body: Close your eyes and take a few deep breaths to relax your body. Release any tension in your shoulders, neck, and jaw.
Imagine Suction Cups: Visualize imaginary suction cups attached to the soles of your feet. Picture these cups extending from the bottom of your feet, reaching down into the Earth.
Connection with Earth: Envision these suction cups securely connecting you to the Earth's energy. Feel a gentle but firm pull, grounding you and establishing a strong connection with the Earth.
Rooted and Supported: As you continue to breathe, imagine roots extending from the suction cups, anchoring you deep into the Earth like the roots of a tree. Feel the stability and support that comes from this connection.
Absorb Earth's Energy: Visualize energy flowing from the Earth, up through the roots, and into your body. Imagine this energy as a warm, golden light, filling you with a sense of grounding, balance, and revitalization.
Release Excess Energy: As you inhale, draw up the Earth's energy, and as you exhale, release any excess or stagnant energy down through the roots, allowing it to be absorbed by the Earth.
Take Your Time: Spend a few moments in this grounded state, feeling the connection between your feet and the Earth. Enjoy the sense of stability and calmness that comes from this grounding exercise.
Complete the Practice: When you're ready, slowly open your eyes and bring your awareness back to the present moment. Take a moment to notice how you feel, grounded and centered.
Final Thoughts
Embarking on the journey to raise your vibration is a powerful investment in your overall well-being. By cultivating positive thoughts, practicing gratitude, and engaging in activities that bring joy, you elevate your vibrational frequency.
This shift not only enhances your personal experience but contributes positively to the collective energy, which creates a ripple effect of harmony, abundance, and joy in your life and beyond.
Frequently Asked Questions
What are high vibration thoughts?
High vibration thoughts are positive, uplifting, and aligned with love, gratitude, and abundance. They focus on possibilities, solutions, and the inherent goodness in oneself and others. These thoughts contribute to a harmonious and elevated state of consciousness, joy, compassion, and a sense of interconnectedness with the universe.
What causes low vibrations?
Low vibrations are often caused by negative thoughts, emotions, and behaviors rooted in fear, doubt, or lack. Stress, anxiety, and unresolved emotional issues can contribute to lower vibrational frequencies. Engaging in harmful habits, dwelling on past traumas, and resisting personal growth also contribute to a diminished energetic state.
How do I know what frequency I vibrate at?
You can gauge your vibrational frequency by paying attention to your overall emotional state and the quality of your thoughts. Positive emotions, a sense of well-being, and optimistic thoughts are indicators of a higher vibrational frequency, while persistent negative emotions and pessimistic thoughts suggest a lower vibrational state. Regular self-reflection, mindfulness, and an awareness of your emotional and mental patterns provide insights into your vibrational energy.
You Might Also Enjoy These Posts
The Law Of Assumption -The Secret To Manifesting
Herbal Bath Tea Recipes For Peace & Healing
Top 10 Books For Manifestation~Unlock Your Potential
Planetary Days ~ Aligning With Celestial Energy
Free Life Path Number Calculator For Numerology
Soul Contracts ~ Powerful Catalysts For Growth
15 Root Chakra Crystals~Stones For Grounding
The Real Meaning Of A Green Aura